LEARN TO SWIM AQUATICS (
5 TO 12 YEARS)
The American Red Cross Learn-to-Swim courses, offered at the Cumming Aquatic Center, consist of six comprehensive levels that teach participants how to swim skillfully and safely.  The program gives participants a positive learning experience.  Each level includes training in basic water safety, such as knowing when to call for help and helping a swimmer in distress.  All aquatic and safety skills are taught in logical progression, beginning with basic aquatic skills (LTS Level 1) and finishing with swim team readiness (LTS 6).  The objective is to teach people to swim and to be safe in, on, and around water.  Participants who are 13 years of age or older should register in the Adult Aquatics program.
All Learn to Swim classes are 45 minutes.  Sessions vary from 6 to 8 classes.  Participants must be between 5 and 12 years of age.
How Do I Know Which Level To Register For? 
Learn to Swim 1:  I am a beginner looking forward to learning the fundamental skills of swimming (i.e., floating, treading, swimming independently).
Learn to Swim 2:  I can swim independently for a short distance, but still need to improve Freestyle and Backstroke techniques.
Learn to Swim 3:  I can swim Freestyle with side breathing and Backstroke with proper technique, but I need to learn Breaststroke and Butterfly.
Learn to Swim 4:  I can swim Freestyle, Backstroke, and Breaststroke across the fool (40 feet) but need to improve Breaststroke and Butterfly technique and practice diving.
Learn to Swim 5:  I am familiar with the 4 competitive strokes and can swim 25 yards independently.  I need to work on stroke refinement, endurance, flip turns, and diving from the diving block in to the Competition Pool.  
Learn to Swim 6:  I have strong endurance in Freestyle, Backstroke, Breaststroke, and Butterfly,.  I can dive off a dive block and swim in deep water.  I need to fine-tune strokes, turns, and finishes to prepare for a swim team. 
For a complete list of exit skills for each Learn to Swim level, please scroll down to view the skill charts for each level.  Participants should enroll in the lowest level they cannot complete all of the require skills for.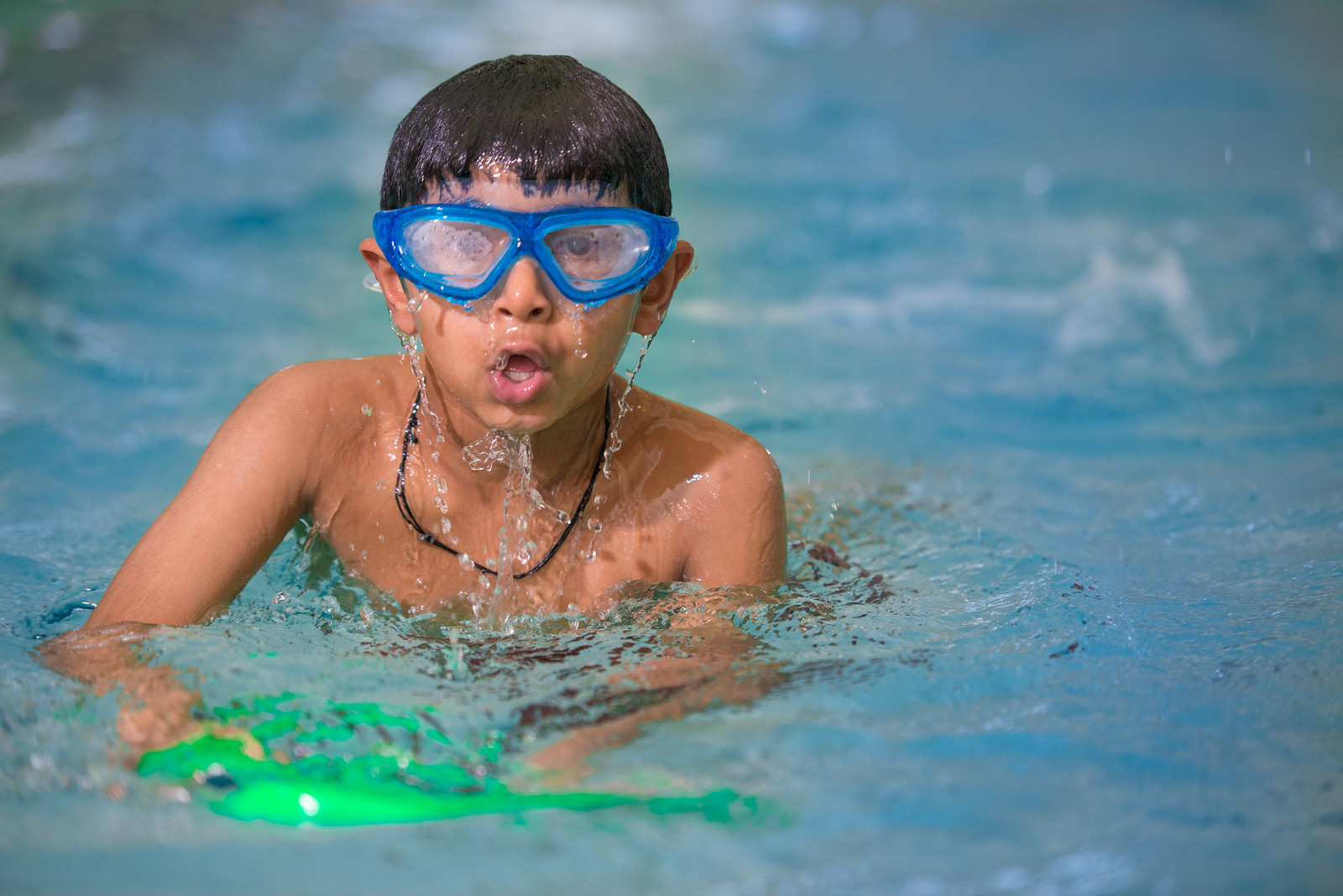 LTS 1

Exit Skills
Enter & exit the water using ladder, steps, side
Blow bubbles, 3 sec
Bobbing, 5 times
Open eyes underwater, retrieve object in shallow water, 2 times
Front & back glide, 2 body lengths, assisted
Back float, 5 sec, assisted
Recover from front glide to vertical position, assisted
Recover from back float/glide to vertical position, assisted
Roll from front to back & back to front, assisted
Explore treading arm & leg actions in chest deep water, assisted
Alternating arm & leg action on front & back, 2 body lengths, assisted
Simultaneous arm & leg action on front & back, 2 body lengths, assisted
Combined arm & leg action on front & back, 2 body lengths, assisted
Enter water independently, travel 5 yards, bob 5 times, exit water independently
Front glide 2 body lengths, roll to back float 5 sec, recover to vertical position, assisted
Various water safety topics
LTS 2
Exit Skills
Enter & exit water using ladder, steps, side, in chest deep water
Fully submerge & hold breath 10 sec
Bobbing, 10 times in chest deep water
Open eyes and retrieve object 3 times, chest deep water
Rotary breathing, 5 times
Front & back glides, 2 body lengths
Front float, 10 sec
Back float, 15 sec
Recover from front float/glide & back float/glide to vertical position, chest deep water
Roll from front to back & back to front
Change direction of travel while swimming on front or back
Tread water 15 sec, using arm & leg action
Swim independently on front & back using arms & legs, 5 body lengths
Finning arm action on back, 5 body lengths
Step in to chest deep water, push off bottom, tread/float 15 sec, swim on front/back 5 body lengths, exit water
Back float 15 sec, roll to front, recover to vertical position
Push off wall, swim 5body lengths on front using arms & legs, roll to back, float 15 sec, roll to front, continue swimming 5 body lengths
Various water safety topics
LTS 3

Exit Skills
Jump in to deep water, submerge, recover, swim to side
Head first entry from sitting position
Head first entry from kneeling position
Bobbing while moving to safety, 15 times
Rotary breathing, 15 times
Survival float on front, deep water, 30 sec
Back float in deep water, 1 min
Change from vertical to horizontal position on front & back, deep water
Rotate full turn in vertical position, deep water
Tread water, 1 min
Push off, streamline 3-5 body lengths, dolphin kick and flutter kick
Front crawl, 15 yards
Breaststroke kick, 15 yards
Elementary Backstroke, 15 yards
Scissor kick, 15 yards
Jump in deep water, recover, float/tread 1 min, rotate 1 full turn, swim front crawl or elementary backstroke 15 yards, exit water
Push off streamlined, front crawl 15 yards, change position/direction, elementary backstroke 15 yards, exit water
Various water safety topics
LTS 4
Exit Skills


Head-first entry from compact position

Head-first entry from stride position
Swim underwater 3-5 body lengths
Feet first surface dive
Survival swimming, 1 min, deep water
Front crawl open turn
Back crawl open turn
Tread water, 2 min
Front crawl, 25 yards
Breaststroke, 15 yards
Butterfly, 15 yards
Elementary Backstroke, 25 yards
Back crawl, 15 yards
Push off on back, streamline 3-5 body lengths, with flutter kick AND dolphin kick
Feet first entry in to deep water, front crawl 25 yards, change direction/position, elementary backstroke 25 yards
Breaststroke 15 yards, change direction/position, back crawl 15 yards
Submerge, swim 3-5 body lengths underwater, return to surface, exit water
Various water safety topics
LTS 5
Exit Skills
Shallow angle dive from side, glide 2-3 body lengths, begin any front stroke
Tuck & pike surface dives
Front flip turn
Back flip turn
Tread water, 5 min
Tread water with legs only, 2 min
Front crawl, 50 yards
Breaststroke, 25 yards
Butterfly, 25 yards
Elementary Backstroke, 50 yards
Back crawl, 25 yards
Scull, 30 seconds
Sidestroke, 25 yards
Shallow angle dive, front crawl 50 yards, elementary backstroke 50 yards, using turns throughout
Breaststroke 25 yards, change direction of travel, back crawl 25 yards, using turns throughout
Various water safety topics
LTS 6
Exit Skills
Front crawl, 100 yards
Elementary Backstroke, 100 yards
Back crawl, 50 yards
Breaststroke, 50 yards
Sidestroke, 50 yards
Butterfly, 50 yards
Front & back crawl open turns, demo while swimming
Front crawl & backstroke flip turns, demo while swimming
Sidestroke open turn
Butterfly turn
Breaststroke turn
Swimming with pull buoy, fins, and paddles
Calculating heart rate
Surface dive, retrieve object from the bottom in 7-10 feet of water
Swim 500 yards continuously using any 3 strokes, swimming at least 50 yards of each stroke
Jump in to deep water, survival float 5 min, roll on to back, back float 5 min
HELP / Huddle position, 2 minutes
Feet first surface dive, retrieve object in 7-10 feet of water, return to surface starting point
Dive from starting block
Circle swimming
How to use a pace clock
Various water safety topics