HEALTHWAYS SILVERSNEAKERS® PROGRAM
The SilverSneakers® Fitness Program is an innovative health, exercise and wellness program helping older adults live healthy, active lifestyles. Your SilverSneakers fitness membership includes:
Access to our basic amenities such as our heated pool with adult-only hours, our lap pool, private locker rooms, private showers, and our seasonal leisure pool.
SilverSneakers classes (coming in early spring)
Most important, your membership is available to you at little or no cost through your health plan.
Regular participation in SilverSneakers can help you build muscular strength, improve joint mobility and increase cardiovascular endurance, leading to improved health and greater independence.
SilverSneakers also provides opportunities to:
expand your social network and strengthen friendships
increase your mental sharpness
take part in social activities and wellness seminars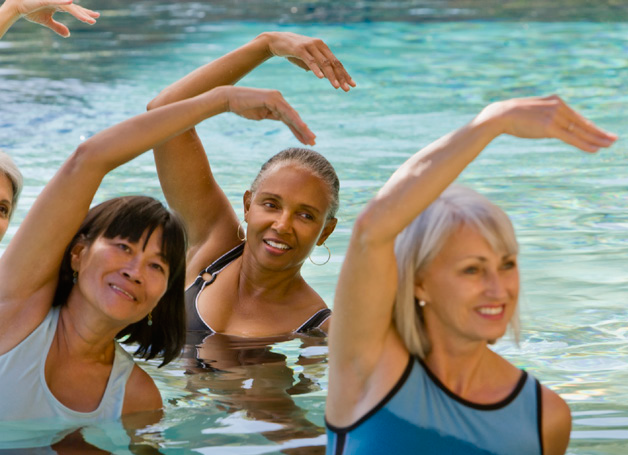 Healthways Prime PB
If you are a Healthways Prime member, your Prime fitness membership qualifies you for basic membership to our Competition, Instructional and Outdoor Leisure Pools. Prime is a well-being benefit offered to some working adults 18 years of age & older by their employer or through their health insurance plan.  Healthways partners with employers & health plans to offer this benefit..
More than 1 million members nationwide already enjoy SilverSneakers and Prime PB. Join them today and bring your SilverSneakers/Prime card and/or health plan ID to the front desk, and our friendly staff will help you enroll!
SILVERSNEAKERS® SIGNATURE CLASSES
These classes will be available starting March 4, 2013 and will be included as part of the SilverSneakers membership. All other participants will be charged the normal facility rate for water exercise classes. Check our Group Exercise Class page for details.
SilverSneakers Classic
Have fun and move to the music through a variety of exercises designed to increase muscular strength, range of movement, and activity for daily living skills. Hand-held weights, elastic tubing with handles, and a ball are offered for resistance, and a chair is used for seated and/or standing support. This class will be conducted in the Multi-purpose Room, located between the Instructional and Competition Pools.
Class time:  Monday & Thursday (11:00 – 11:55 am) & Tuesday, Wednesday, Friday (10:00 – 10:55 am)
Instructor:  Sheree
SilverSneakers Splash
Activate your aqua urge for variety! SilverSplash offers lots of fun and shallow water moves to improve agility, flexibility and cardiovascular endurance. No swimming ability is required, and a special SilverSneakers kickboard is used to develop strength, balance and coordination.  This class will be conducted in the Instructional Pool.
Class time:  Monday through Friday (11:00 – 11:55 am)
Instructor:  Valerie (Mon, Tues, Wed, Thurs), and Myra (Fri)